Welcome!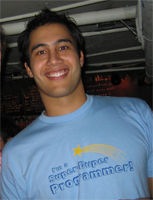 Flying can be one of the greatest thrills and most rewarding experiences a person can have. I've been flying since the age of 14 and I still get a kick out of a good landing. Over the years I've learned many things but each flight brings new experiences and different challenges... that's what's so great!
My Name is Paolo Resmini and I'm a Certified Flight Instructor. If you're looking for someone who can help you achieve your goals in aviation, whether that is learning to fly for recreation, or becoming a Commercial Pilot, I can help.
"More than anything else the sensation is one of perfect peace mingled with an excitement that strains every nerve to the utmost, if you can conceive of such a combination."
-Wilbur Wright
To get a better idea of what it may be like to fly with me, check out the testimonials page to hear what past students have said.
So...

you want to fly?

You've finally decided it's time to take the next step in your dream to become a pilot. What's it going to take? Although each person is different, the basic requirements are the same. In this article I outline what is required to get your Private Pilot License...
Aviation

Articles

Learning never ends in aviation. Here are the latest articles I've enjoyed.